How to Fix iOS 11/iOS 10 Message Quick Reply Not Working Issue
If message quick reply not working on your iPhone after updating to new iOS 11, you can get some quick fixes in this guide to solve the problem.

Primo iPhone Data Recovery
Primo iPhone Data Recovery is a professional iOS recovery tool that helps recover lost data from iPhone/iPad during the new iOS 11 update. Now download it to have a try.
A question from Apple Support Communities:
"I have the iPhone 6 (64GB model). After the upgrade to iOS 10, I lost the ability to quick reply. When I long press on the message notification, nothing happens. If I double tap, it will open the messages app for me to reply. Does it only work for IPhone 6s or later?"
Also Read: How to Fix Messages/iMessage Not Working Issues on iOS 11 >
Many users who just upgraded to a new system iOS 10 or iOS 11 may find that quick reply with messages from the locked screen not working. We can quickly reply a message without unlocking the phone and going to Messages app, but when this function not working, how can you fix it? In this guide, we will talk about 5 fixes to solve the iOS 11/iOS 10 message quick reply not working issue.
You May Like: How to Fix the Most Common iOS 11 Update Issues >
Table of Contents:
How to Turn on/off Quick Reply Message on iOS 11/iOS 10
Step 1. Open Settings app on your iPhone.
Step 2. Scroll down and tap on Touch ID & Passcode, enter your passcode.
Step 3. Under ALLOW ACCESS WHEN LOCKED, turn on Reply with Messages. This will enable you to quick reply to new message when the iPhone is locked.
Step 4. When a new message comes, you just need to press on it to bring up the reply page without opening the Message app.
If you've turned on Reply with Message function, which means other people can also view and reply the messages when they have your iPhone at hand. If you want to disable this function, just turn it off in Step 4.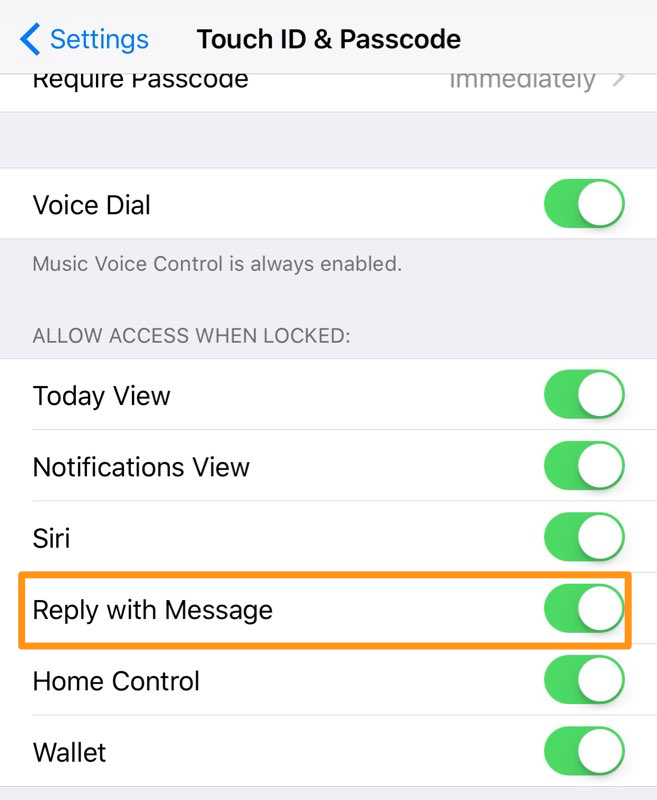 How to Fix Quick Reply Not Working on iOS 11/iOS 10
After updating to new iOS 11, if you can't quick reply a text message from the notification on lock screen, here are some solutions you can try to fix this issue.
Tip 1. Make sure you've enabled Reply with Message. Detailed steps are shown in Part 1.
Tip 2. Make sure you've turned on message previews in notifications.
If you didn't enabled message previews you will not allowed to preview message content in locked screen, so obviously you can't quick reply the messages. Go to Settings > Notifications > Messages > Scroll down and tap on Show Previews > choose Always.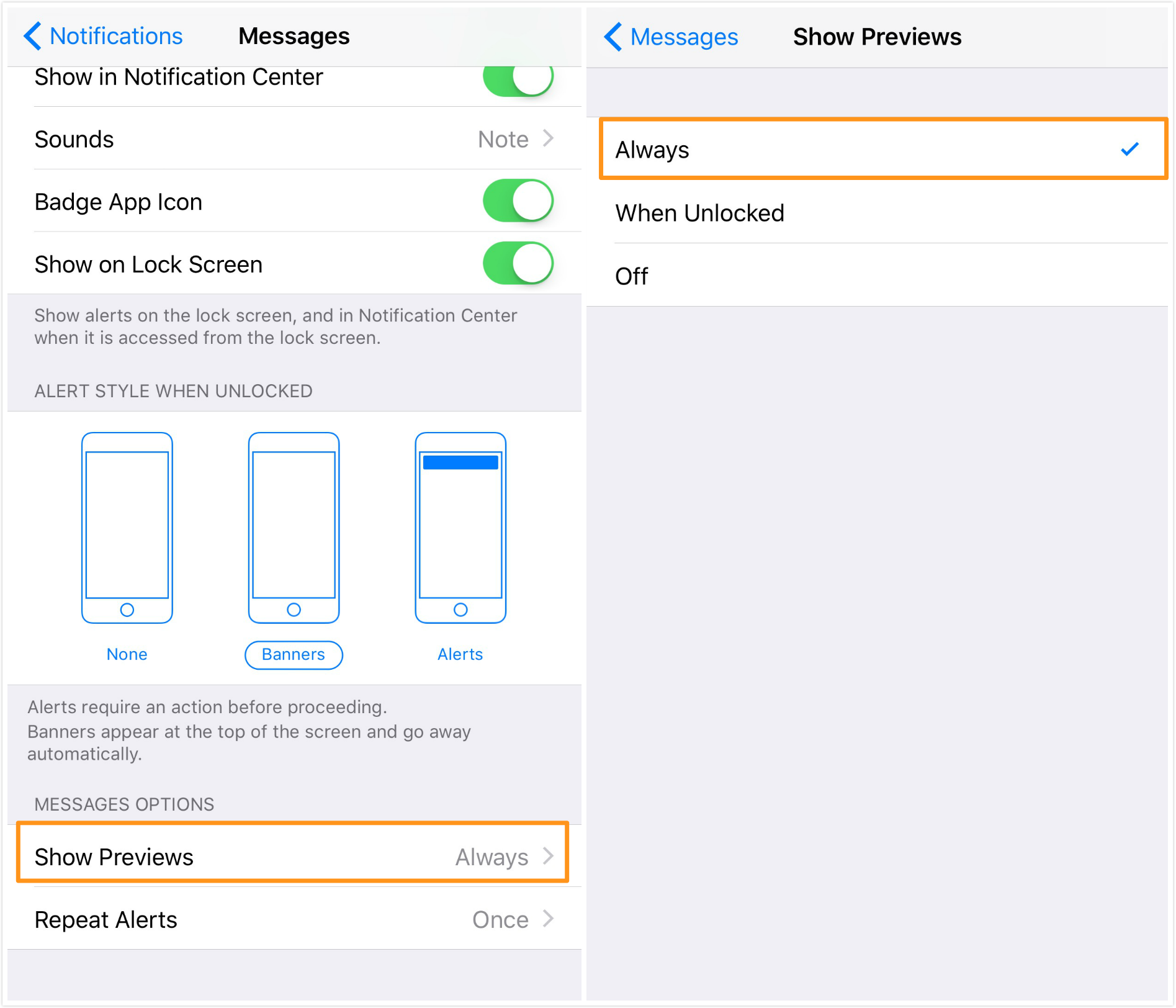 Tip 3. Turn off 3D Touch on your iPhone 6s and later.
If you have an iPhone 6s or later that with 3D Touch enabled, when the new message come you will need to deep press and hold the notification to bring up quick reply window, and if you slide the message will only see the "Clear" option. But when you turn off 3D Touch, you can slide to see "View" and "Clear" options, and tap on "View" to bring up the quick reply window with keyboard.
To disable 3D Touch on iPhone 6s/7: Go to Settings > General > Accessibility > 3D Touch > Turn off it.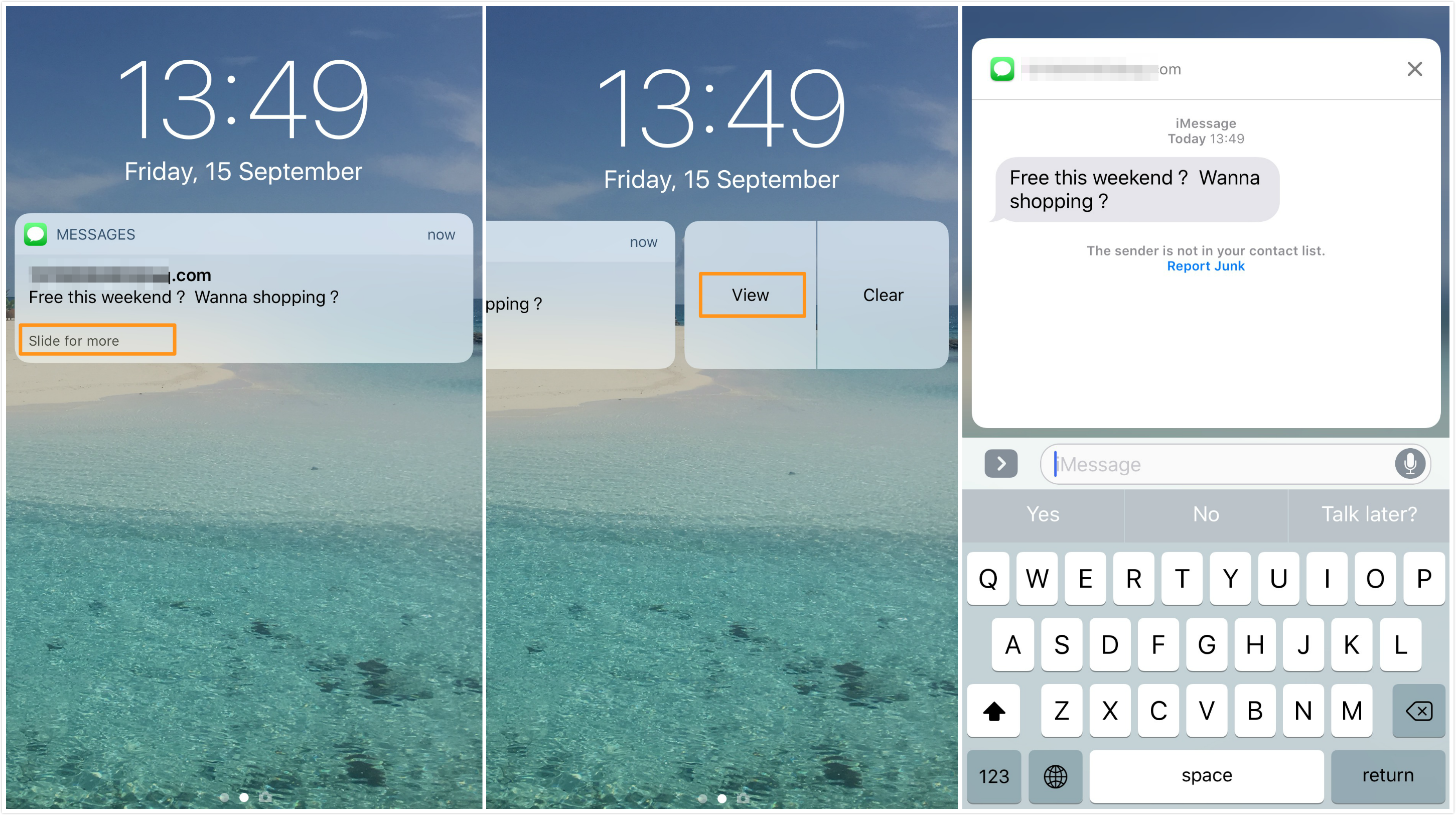 Tip 4. Reset All Settings on iPhone.
Try reset all settings on your iPhone by going to Settings > General > Rest > Reset All Settings.
Tip 5. Restart your iPhone.
Try powering off your iPhone and wait for few seconds and then turning on it.
Bonus Tip: Recover Lost Messages During iOS 11 Update
If you find that your messages disappeared from iPhone after you updating to new iOS 11, don't worry, you can get Primo iPhone Data Recovery to retrieve them even without backup. It is a competent iOS data recovery tools with 3 recovery modes: Recover from iOS Device, Recover from iTunes Backup and Recover from iCloud. For more details, just refer to How to Recover Missing Messages from iPhone after iOS 11 Update >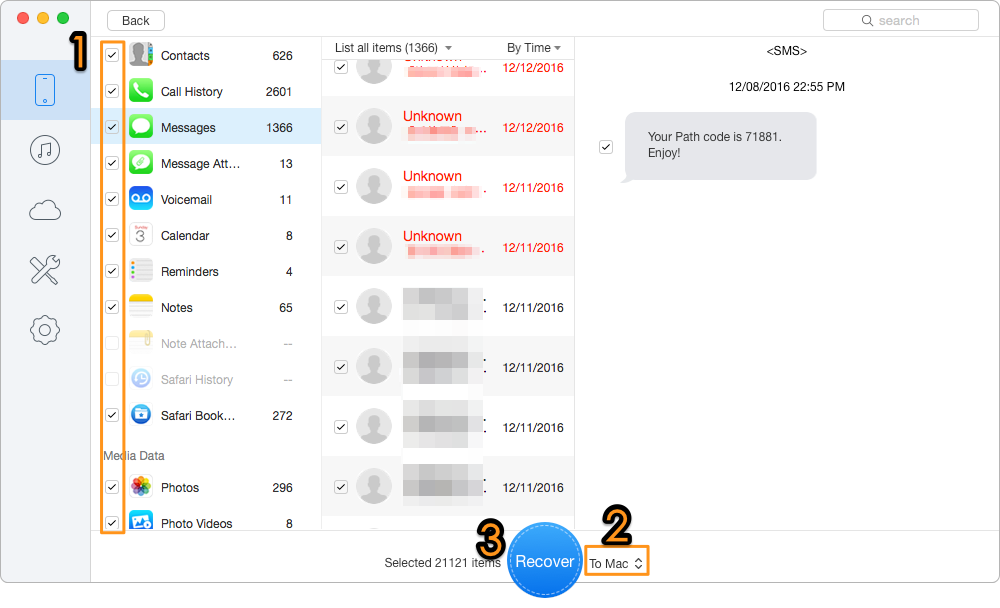 Conclusion
Have problem with the quick reply issue with messages? Any ideas or solutions are welcomed in the comment section. If you have meet some other iOS 11 update issues like iMessage effects not working, Siri not working, iPhone battery issues, or Wi-Fi problems, you can share with us too.

Fiona Wang Member of @PrimoSync team as well as an Apple fan, love to help more users solve various types of Apple related issues by writing iOS-how-to tutorials.
More Related Articles You May Like
Join the Discussion on iOS 11 Update