How to Disable High Efficiency Image Format (HEIF) in iOS 11
Want to disable HEIC photo format and save iPhone photos as JPG or PNG? This guide will show you how to disable HEIF (.heic) photo on iPhone in iOS 11.

Primo iPhone Data Recovery
With Primo iPhone Data Recovery you are allowed to recover lost or deleted files on iPhone iPad (iOS 11 supported). Now download it to have a try.
With the official release of iOS 11 on Sept. 19, Apple introduced a new image format called HEIF (.heic). HEIF is supported on macOS High Sierra, and many macOS applications work natively with HEIF, including Photos, Preview, and Quick Look. In this post, we will show you more details on HEIF and how to disable HEIF on your iPhone in iOS 11.
Also Read: How to Recover Disappeared iPhone Contacts after iOS 11 Update >
Table of Contents:
Part 1. What is HEIF Photo on iOS 11
In iOS 11, High Efficiency Image File Format (HEIF) is a new image format from the developers of MPEG, which is used by default on new photos on iOS 11. HEIF will help you save iPhone storage, good news to those 32GB iPhone users. It will reduce the photo size you take with your iPhone's camera, say, if you shot a JPG photo that takes 5MB file size, HEIF will reduce it to 2.6-3MB, a great compression to your iPhone photos.
Also Read: How to Free up Space on iPhone in iOS 11 >>
Part 2. HEIF Photo Supported iOS Devices
Some users updated to iOS 11 found that there is no HEIF on their iPhone 6s/6s Plus or iPhone 6/6 Plus, that's because High Efficiency Image Format doesn't support iPhone 6s or older. Check if your iPhone or iPad is compatible with HEIF (.heic) photo:
iPhone 7, iPhone 7 Plus
iPhone 8, iPhone 8 Plus
iPhone X
iPad Pro
iPad [2017] and newer
Part 3. How to Convert HEIF to JPEG when Transfer Photos to PC/Mac
Follow the below steps and you can transfer HEIF photos to JPEG automatically when transfer to PC or Mac computer:
Step 1. Go to Settings app on iPhone.
Step 2. Scroll down and choose Photos.
Step 3. Under TRANSFER TO MAC OR PC, choose Automatic.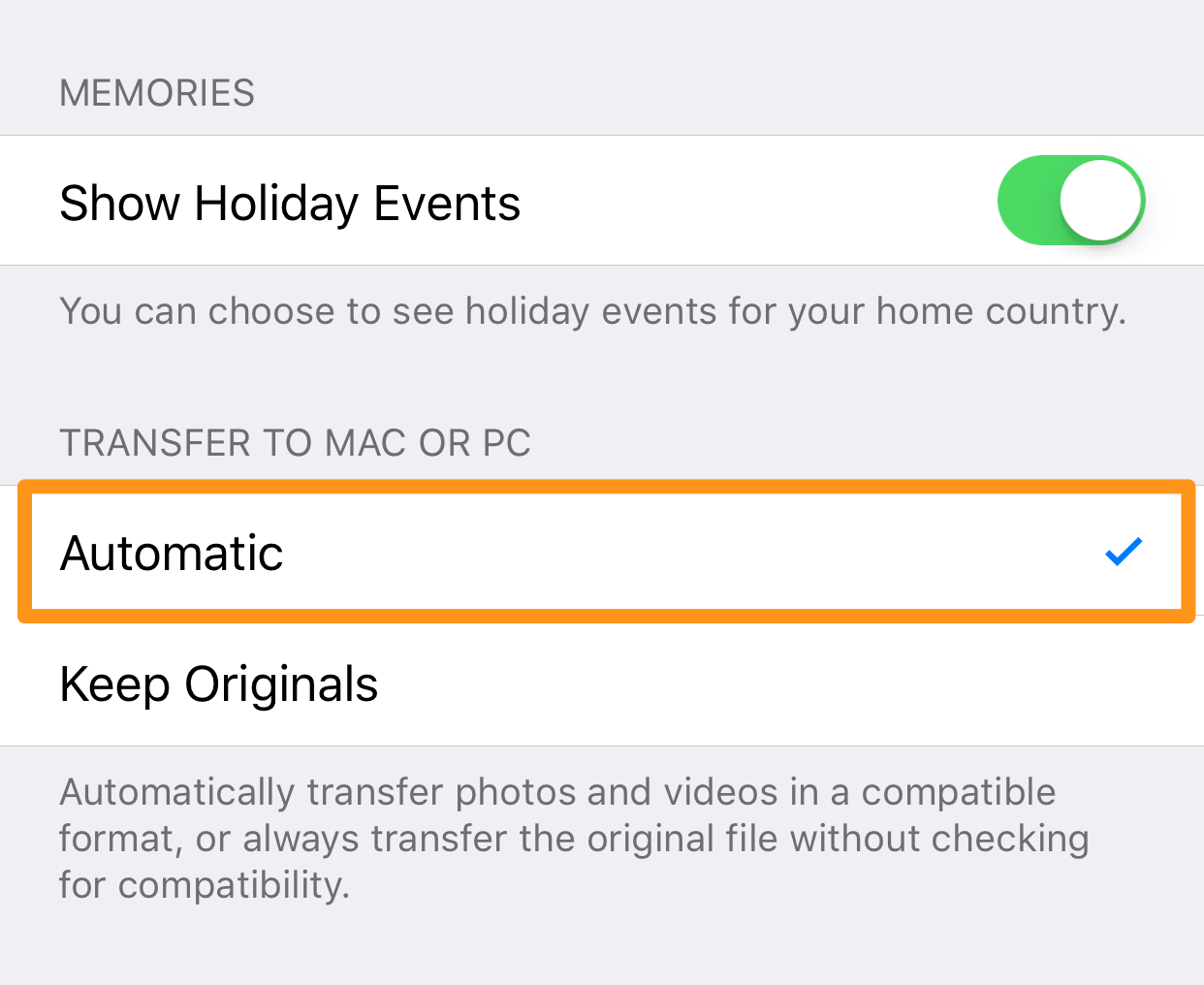 Part 4. How to Disable HEIF Photo on iPhone in iOS 11
On your iPhone 7 and later, open Settings > Camera > Formats. You will see High Efficiency and Most Compatible options. Check Most Compatible.
High Efficiency: saves iPhone photos as HEIC (.heic) files and videos as HEVC-encoded MOV (.mov) files
Most Compatible: saves iPhone photos in the format JPG (.jpg) and videos as H.264 (.mov) files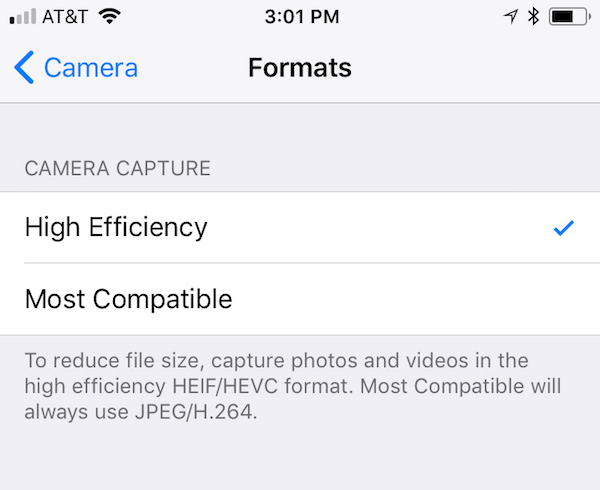 Photos, text messages, notes, and contact are important data on your iPhone you want to keep them safe. But new iOS update is never out of risk and it is possible your important data get lost during the latest iOS 11 update. Or you may accidentally delete some data from iPhone or iPad and want to recover them. Primo iPhone Data recovery is worth to have a try, which is able to recover lost photos, messages, contacts, notes and more from iPhone, iPad on iOS 11/10/9/8/7.
Also Read:
How to Recover Lost Photos on iPhone after iOS 11 Update >
How to Recover Missing Messages from iPhone after iOS 11 Update >
Conclusion
Disabling HEIF (.heic) photo on iPhone is quite simple with the above instructions. And for your lost or deleted photos, you can download Primo iPhone Data Recovery to get them back.

Fiona Wang Member of @PrimoSync team as well as an Apple fan, love to help more users solve various types of Apple related issues by writing iOS-how-to tutorials.
More Related Articles You May Like
Join the Discussion on iOS 11 Update