What is iCloud Drive – a iDevices documents and files manager
Do you know what is iCloud Drive? In this Wiki Page, we will make a detailed introduction about iCloud Drive, and hopefully you have a better understand about it.

Primo iPhone Data Recovery

– #1 iPhone Data Recovery

Don't have Primo iPhone Data Recovery? Download it now prior to reading this guide and it will save you quite a lot of time. Click Here to Free Download
What is iCloud Drive
iCloud Drive is iCloud's file hosting service for devices running iOS 8, OS X Yosemite (version 10.10), or Windows 7 or later, plus online web app access via iCloud.com. This feature allows users to store any kind of file, including photos (Learn: how to transfer photos from iPhone to PC), videos, documents, music (Also reading: how to transfer music from iPod to computer), and other apps' data, in iCloud Drive and access it on any Mac, iPad (Related guide: how to transfer photos from iPad to computer), iPhone, iPod Touch, or Windows PC. Users can start their work on one device and continue on another device.
By default, users will still get 5 GB of storage for free as previously, but the expandable storage plans available have increased considerably in size (up to 1 TB of space) and altered to monthly subscription options from the yearly ones offered under the previous non-iCloud Drive service.
Everything You Should Know about How to Use iCoud Drive
Part 1. How to Set Up iCloud Drive
If you're a entry-level iDevice user, and you have an Apple ID account, you should know that some of your Apple content, including apps downloaded from iTunes and the Mac App Store, your iCloud email, and iTunes songs (Learn: how to transfer playlists from iPhone to iTunes) are automatically stored and available in your iTunes and iCloud accounts, which means that data can be re-downloaded with your password when they are ever lost or deleted.
On other hand, you probably have other data, such as documents, photos, and third-party content that is not automatically backed up (Related guide: how to back up your iPhone photos). This is where iCloud Drive comes in. It can store all your data, sync it between devices, and download it to a new iOS device. If you didn't enable it upon installation, it can be accessed on your iOS device via Settings > iCloud then enabling iCloud Drive.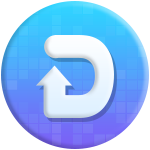 Get Your Best iPhone Data Recovery
Designed to fit effortlessly into your iPhone data recovery.
Download Now
Part 2. How to Use iCloud Drive on Mac
In the past, with iCloud-compatible apps, you could choose to save your files locally or to iCloud. With Yosemite that option is available to all apps. And it's not difficult to access it. Open a Finder window and you'll see an iCloud Drive entry. (If you don't see it, choose Finder > Preferences > Click Sidebar > Check iCloud Drive.) Click on this icon and you'll spy a group of folders that represent the apps associated with the files within. (You won't find data synced with the Contacts (Learn: how to transfer contacts from iPhone to iPhone), Calendar, and Notes apps as these are strictly application files.)
Related Reading: How to Back Up iPhone Photos.
To use a file on a Mac, open the folder that holds it and double-click on it (see the screenshot above where there are folders for Numbers, Pages, and TextEdit) or launch an app, use the Open command, and navigate to it on your iCloud Drive.
Part 3. How to Use iCloud with iOS 8 or latter
iOS apps written to take advantage of iCloud Drive can additionally export their files to an iCloud Drive folder. We'll use Pages again. Within Pages open a document, tap the Share icon, and tap Send a Copy. In the Send a Copy window that appears choose an output format (Pages, PDF, Word, or ePub). The file will be converted and a Choose How to Send window will appear. Tap on Send To and the iCloud window appears. Tap a folder where you'd like to store the document and, at the bottom of the resulting window, tap Export to this location. The file will be copied to that folder on your iCloud Drive.
Don't Miss: How to Recover Deleted Texts Messages from iPhone.

Yuri A young but experienced iPhone Pro Tip editor at @PrimoSync, also a hiking lover for couple years. Enthused by sharing daily tips on all Apple related topics.
Related Articles You may Like
Join the Discussion on iPhone Music Transfer