24 Common Pokémon Go Problems and How to Solve
Have some annoying Pokémon Go issues, like "unable to authenticate", "Pokémon Go sign out error"? Check this complete guide to fix your Pokémon Go problems.

Primo iPhone Data Recovery
Primo iPhone Data Recovery is a professional iOS data recovery tool and iPhone backup extractor for iPhone, iPad and iPod touch. Click Here to Free Download.
iOS 11 comes with many new features, but updating may cause unexpected problems. We've collected the Top 25 + issues You May Meet in iOS 11 Update. If you lost data during the update, you can check the Complete Guide to Recover Lost Data after iOS 11 Update.
Since launching in July and soaring in popularity, Pokémon Go has million of players around the world. However, as a popular augmented reality game, it hasn't been all plain sailing, and many Pokémon Go players are still experiencing substantial problems such as unable to authenticate, cannot connect server, GPS issues etc.
If you are also experiencing Pokémon Go authentication trouble, one of the most common Pokémon Go problems, this article may be your savoir. As it will show you 24 common Pokémon Go problems that collected from Pokémon Go players, and the tips to solve them with efficiency.
Related Reading: Pokémon GO Tricks and Cheats You May Love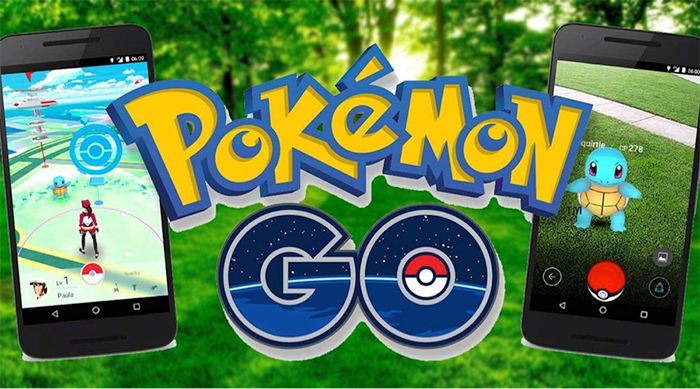 Table of Contents:
Problem 1. Pokémon Go "Unable to Authenticate"
HOT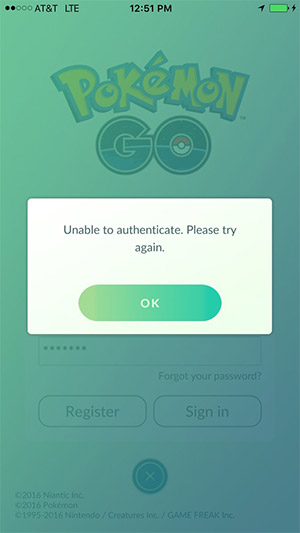 One of most common complaints is that the "unable to authenticate" error messages prompt while Pokémon Go players try to log in their Pokémon Trainer Club credentials, and now it still exists after updating to the most recent version of iOS 1.5 and Android 0.35. This may be because the server overloads unexpectedly on the mobile devices. If you also have meet this Pokémon Go "unable to authenticate" problem, have a try the following tips now:
Solutions:
Check if the server is go up or go down. Once the Pokémon Go server is go up, you can wait for a while and try again.
Exist the app > Restart this game and try to sign up with another Google account if you have.
Clear all data on Pokémon Go app > Restart the game > Re-create a new character. (It means that you will lose all your current progress, but you will be able to play the game again.)
If clearing the caches on Pokémon Go doesn't help you, try to force the app and re-launch again.
You may like: Pokémon Go Alternatives and Similar Games
Problem 2. Pokémon Go GPS Error
HOT
Accurate GPS location is vital and essential in Pokémon Go. Without stable GPS performance on your phone, the whole game falls apart. However, the GPS issue is the second largest common errors in Pokémon Go, like GPS not fund, GPS unable to recognize the player's location and more, which have caused a flood of complaints from players around the world. Luckily, we collected 4 most common GPS problems and the corresponding tips or tricks to help you out quickly.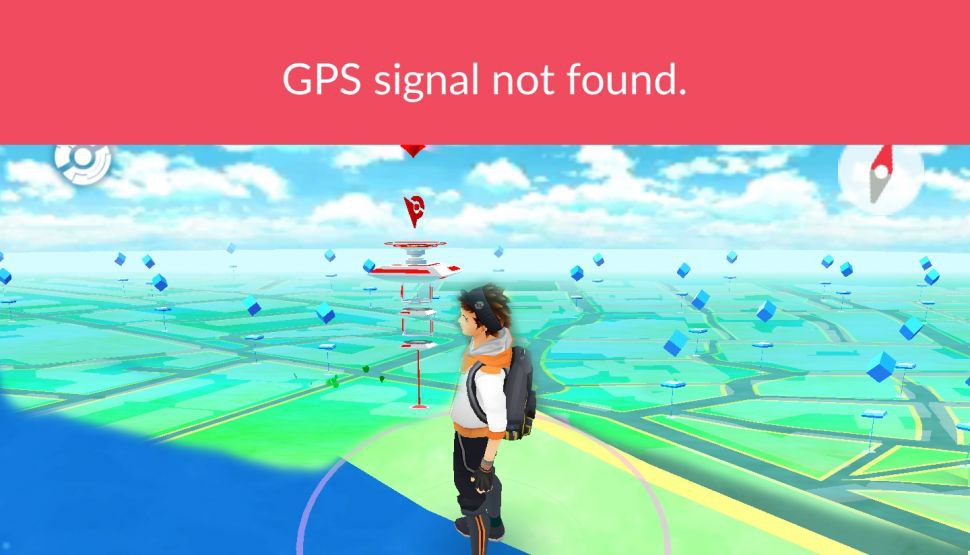 1). "GPS Signal not Fund"
When you are playing Pokémon Go, if it prompts the messages "GPS signal not found" on your iPhone and you may not know what to do next. Well, check the following tips to get it fixed.
Solutions:
Android: Bring up the notification shade by swiping down from the top of a phone. Swipe down from the top of a Phone > Turn on the "Location" if it is greyed out.
iOS Devices: Open Settings > Privacy > Location Services.
Ensure that your phone can be located and Wi-Fi is turned on, even when using Cellular data connection.
If this Pokémon Go GPS issue is still unsolved, try to turn it off and back on, or restart your phone.
2). GPS Unable to Recognize Location
Sometimes, it also happens that the GPS unable to recognize your location in Pokémon Go. When you encounter this situation, you can do:
Solutions:
Turn GPS on and off on devices.
Ensure your GSP system is workable on your devices.
Make sure Pokémon Go has the location permissions enabled on your country.
3). GPS Issues with Inaccurate location
Every now and then, the GPS locations is not perfect on point in Pokémon Go, or may even appear jittery from your phone. This Pokémon Go GPS issue will be vary quite a bit from device to device and depend on how strong the GPS signal is.
Solutions:
Make sure that your GPS is on the highest accuracy setting as possible.
Ensure your GSP system is enabled for the game on your devices.
Restart your devices and reopen GPS.
4). GPS location is Unavailable, Pokémon Go GPS Drift Issue
Pokémon Go players claim that the GPS location is unavailable or drift at times. Generally, GPS accuracy largely depends on the device you're using and your signal/connection strength. To improve your device's location, please review the following settings.
Solutions:
Pokémon GO has location permissions enabled
Internet connectivity is enabled (3G, 4G, Wi-Fi)
Device location/GPS is enabled
Location/GPS set to high-accuracy mode
Problem 3. Pokémon Go Won't Install/Open
UPDATE
Apart from the above Pokémon Go problems, another common issue also make players frustrated, that is Pokémon Go won't install or open on devices with no reason. At this time, you should make it clear that the very specific requirements of Pokémon Go for Android and iOS devices. Here we list the notices before you intend to install the game.
Notice 1. For Android system, you can install Pokémon Go on a tablet, but it may not work correctly.
Notice 2. For Android smartphone or tablet, users should ensure that there is at least 2GB of RAM on it.
Notice 3. Devices need to be running Android 4.4.4 or later; iOS devices (iPhone, iPad and iPod touch) need to be running iOS 8 or higher, including iOS 8/9/10.
Notice 4. Jailbroken iOS iPhone and iPads are not supported. So if you have a jailbreak installed, you will be unable to play the game.
After you have installed Pokémon Go on your devices successfully, you find out it cannot run completely, that's despite it being available in their territory. This is because the game's servers are completely overloaded and you can check the following tips and tricks which may help you.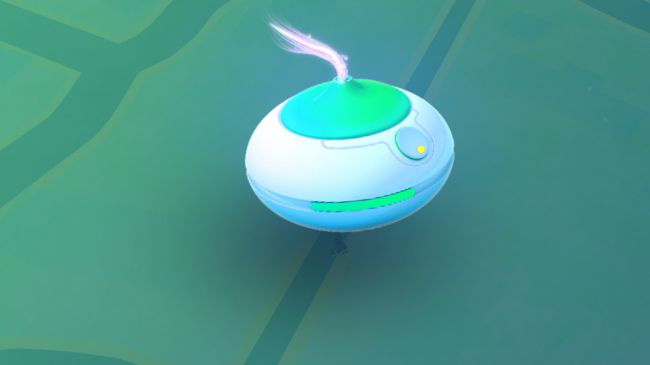 Solutions:
Log out your Pokémon Go account, restart your devices and log in again.
Ensure that the Wi-Fi network is connected and stable.
Check if the Server Stats is fine, if not, try to re-connect the Server.
If this still doesn't work, you may need to uninstall and reinstall Pokémon Go
Note: Your data should be saved to the cloud before uninstall Pokémon Go, so when you re-launch Pokémon Go sign in and your progress should be saved.
Question 4. Pokémon Go Battery Drain
Battery drain while playing Pokémon Go is one of the most common issues, and numerous players report that their smartphone quickly run out of battery power faster than they should when playing Pokémon GO. This is because the game still uses a data/Wi-Fi connection and GPS location, which will constantly accelerate battery consumption. However, battery drain is real and unavoidable problem when playing games, and here we offer several tips and tricks to help you extend the battery life.
Solutions
Turn on the "battery saver" mode in the settings > turn down the screen brightness.
Tap your Poké Ball > Tap Settings > Tap the empty circle next to Battery Saver.
Turn off Augmented Reality features or turn off the camera to save the battery.
Investing in a portable battery pack when playing the game.
Avoid capturing Pokémon in AR mode.
Avoid zooming in and out of the map.
Problem 5. Pokémon Go "you already own this item" Error
When you are purchasing PokeCoins from the Pokémon Go shop, your smartphone loses the Internet connectivity, you will get the error message saying "You already own this item" on your phone. If you don't know how to fix, check the following solutions to solve it.
Solutions
Exit the Pokémon Go and try again
Power off and restart your devices.
Make sure that the Internet connection is table.
Problem 6. PokéCoins and Premium Items Disappeared
PokéCoins is the in-game currency that you can earn in the Pokémon Go game and spend on premium items. Besides, you can also use real-world currency to buy PokéCoins. However, some players recently claim that the premium items and PokéCoins they've bought have disappeared unexpectedly, and they have no effective way to get them back. If you also experience this problem, you can do: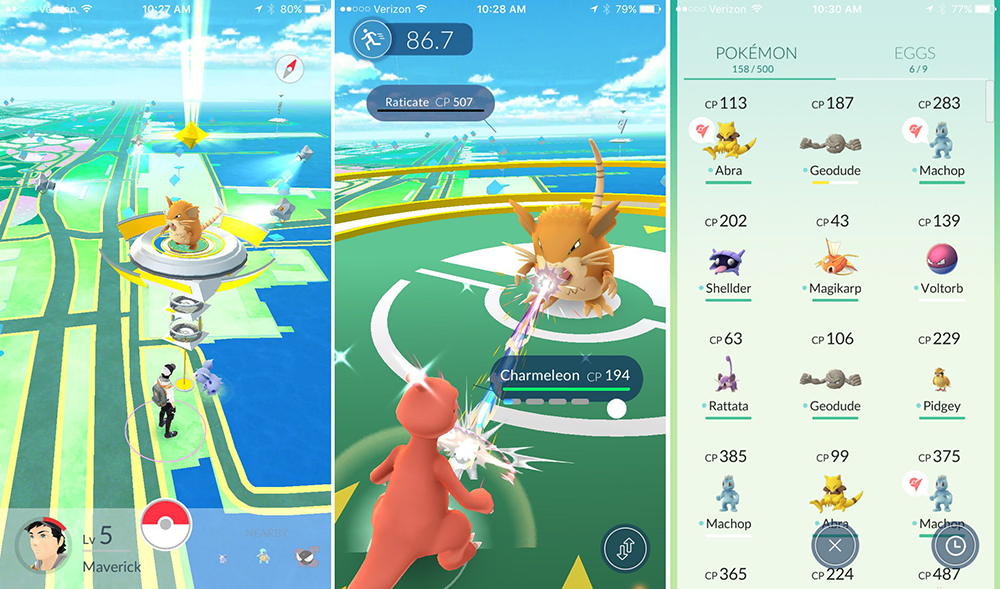 Solutions:
Sign out of your account from the Settings area (Open Pokémon Go > touch Main Menu > Settings and then select "Sign out.") > Sign back into Pokémon Go.
Power off and restart your devices.
Problem 7. Pokémon Go Audio is Distorted
This issue has been showed on the official Pokémon Go troubleshooting site, and it mainly happens when connecting to Bluetooth audio devices, and this will lead to the music and sounds effects in the game becoming distorted or delayed without any warning. If you come across this situation, don't worry, try the following tips or solutions to fix it.
Solutions:
Log out Pokémon Go and log in again.
Reset your iPhone and Try again (Before resetting your iPhone, you need to make a backup of your iPhone for keeping the data safe.).
Ensure only have your mobile data or Wi-Fi turned on, and not the Bluetooth feature.
Also Read:
How to Transfer Music from iPhone to Computer>
How to Transfer Photos from iPhone to iPhone>
Problem 8. Pokémon Go Problems Trainer Club progress resetting to level 1
When you encounter this issue that your trainer progress resetting to level 1, don't panic, this is because you have created more than one Pokémon Go accounts consciously or accidentally. For instance, one is using Google and another using Pokémon Trainer Club.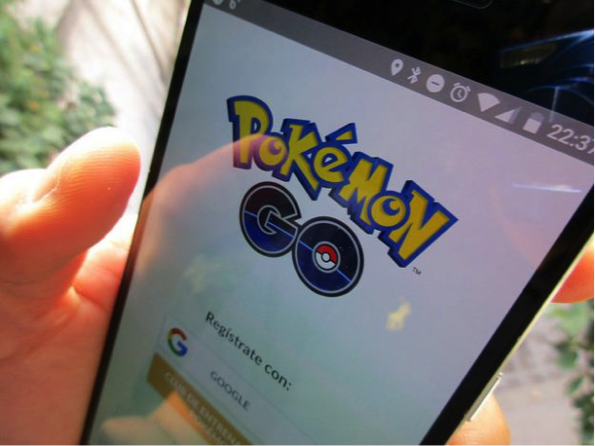 Solutions:
Log out of your account via the Setting menu > Log in the right account.
Problem 9. "This item is not available in your country" Message Prompts
At present, Pokémon Go is only available in a part of countries like U.S. Australia, New Zealand, UK, Canada, Spanish, Egypt, Portugal, Dominican Republic, Germany, Norway, Russia, and it will eventually available around the world in the future. So before downloading the game, you can do like this:
Solutions:
Check your Google Wallet settings to ensure the download address is based in the available country.
If this doesn't work, try contacting with the Google Play support team
Problem 10. Pokémon Go Slow Server Updates.
Another annoyed problem is that when the servers update, it always takes for ages to finish. For a game, it relies on the capacity and strength of the external servers seriously, so if the servers are down, it will lead to players cannot log in. Concerning this frustration, Niantic are also trying to fix this. Before this, we have listed some useful tips or solutions for your reference.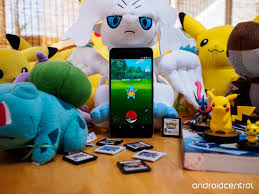 Solutions:
Just wait it out and try again later.
Sign out Pokémon Go and restart your devices.
Un-install Pokémon Go game and re-download it.
Problem 11. Pokémon GO Freeze When Capturing Pokémon
For many Apple users, they report that Pokémon Go freezes unexpectedly when simply trying to catch the Pokémon on iPhone, so does on Android. It can also happen when you're in the middle of a battle.
As for the reason, it is unclear at present. The most concern is that how to fix this.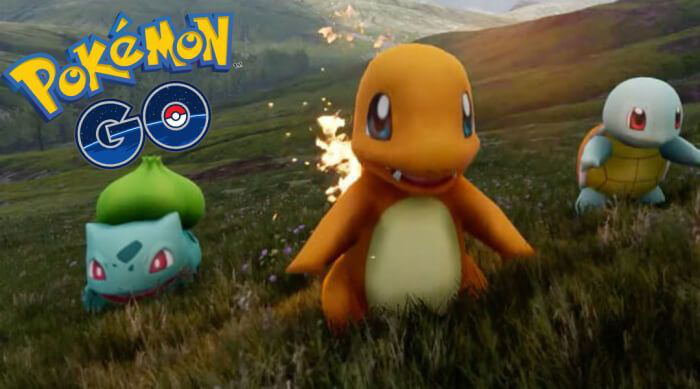 Solutions:
Try turning the data connection off and on again (you can do this by switching on Airplane mode on).
Sign out Pokémon Go and restart your devices.
Problem 12. Pokémon Go data usage
Because Pokémon Go requires players to walk around outside to capture Pokémon creatures and hit up PokéStops, this means that you will definitely be out of Wi-Fi range and use your own mobile data. However, it doesn't actually turn out to use that much data when you're playing — maybe 20-30MB per hour you're walking around. To keep the mobile data usage down, you can latch onto open Wi-Fi networks in cities, or you can do this things like:
Solutions:
Pre-download music, podcasts, videos you may be listening to reduce the mobile data usage.
Turn off auto-downloading of app updates and disable auto-loading of media in apps Facebook, Twitter and more.
Problem 13. AR on Pokémon Go Issues
Turning off AR mode is useful when Pokémon appears in people's houses. You really don't want strangers to call the cops because you're standing in front of their house pointing your phone at them. Unfortunately, you can only turn AR on or off during a battle, so you'll find yourself stuck with the wrong settings. So, to turn on AR you'll need to find another Pokémon. Tap on the Pokémon to engage it and the AR toggle will pop up in the upper right-hand side of the screen.
Problem 14. Pokémon Go shows a spinning Pokéball
NEW
Normally, your phone is attempting to reach the Pokémon Go servers, a spinning Pokéball will show up in the top-left corner of the Pokémon Go app and disappear after a short while. However, if you find out is doesn't disappear for a long time, head over to the Pokémon Go server status page to see if the servers are working properly.
Solutions:
If the devices disconnect the server, try to connect to it again.
Make sure that the Internet connectivity on your devices.
Problem 15. My Pokémon Trainer Won't Move
NEW
In the game of Pokémon Go, your Pokémon trainer should move around the Pokémon Go map as well. When you find out that it is "stuck", and simply walk on the spot, or you cannot open any menus on screen, which means Pokémon Go accidentally crashed. So you need to restart the app.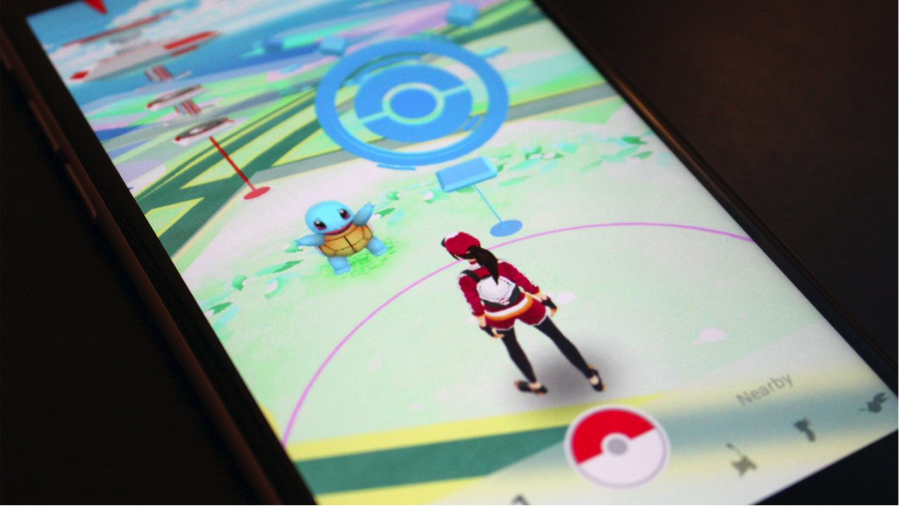 Solutions:
Android: Tap recent apps icon at the bottom-right of the screen > Find the Pokémon Go app > tap on "X" icon.
iOS: Double-press Home Button > Find Pokémon Go and swipe up.
Restart Devices and reopen Pokémon Go.
Problem 16. I Can't Find any Pokémon Nearby
Generally, after installed Pokémon Go on your devices successfully, you can see PokeStops, Gyms and creatures all around you on the devices' map. However, some users claim that this isn't the case. When you get this trouble, all you need to do is: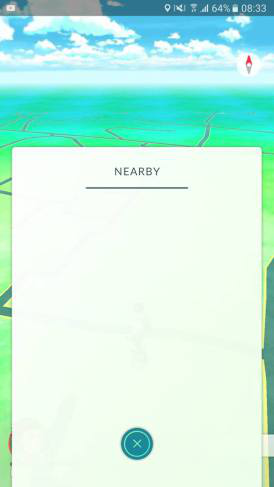 Solutions:
Email Niantic emphasizing how few Pokémon characters are appearing in your region.
Wait to play the game until it's ready for launch in your territory if your region is nor available.
Problem 17. Pokémon Go Problems with Sign Out Error
HOT
Some players claim that when they try logging out the present account and switch to Google accounts, it stuck on the screen and they don't know how to do this. Check the following tricks to fix it.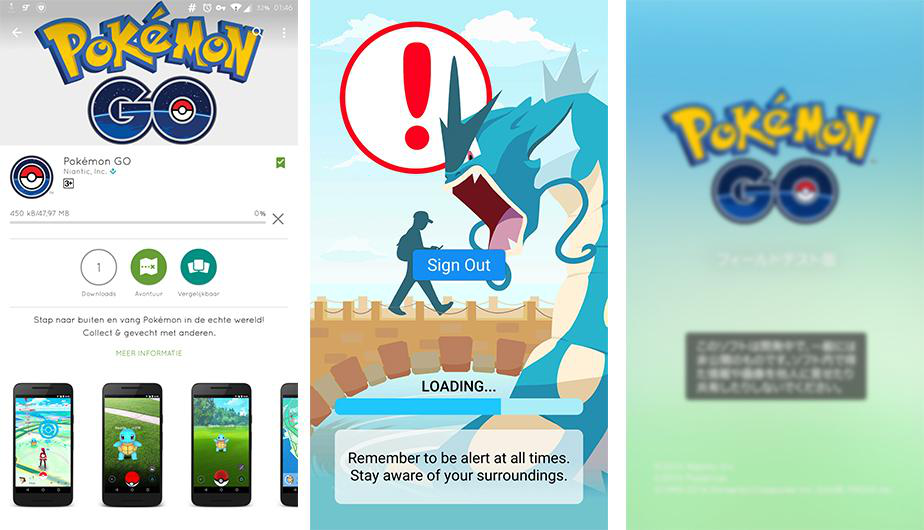 Solutions:
Close the app completely and restart again
Reboot your devices and reopen Pokémon Go.
Check the servers and Wi-Fi network is connected or not.
Problem 18. Outdoor Safety Issues
The last but the most important is safety, because this game requires players to play outside door, and thee always need to have their eyes glued to their phone screens, which means they may ignore at the foot of danger, especially for young people who lack of security sense. This is potentially fatal, and we must improve the security sense at any time in the game, and here we give you several suggestions when playing the game.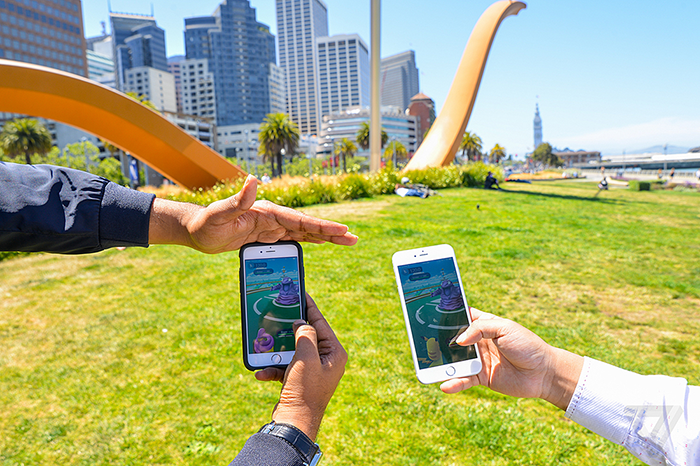 Suggestion 1. Before playing Pokémon Go, it's better to choose a spacious place around us without few mountains or rivers.
Suggestion 2. Making precautionary measures, like wearing elbowpads, wristbands and knees.
Suggestion 3. Take some outdoor protection Measures and bring some light and portable emergency drugs, like scratch ointments, Band-Aids and so on.
Problem 19. I Can't Connect to the Pokémon Go server
NEW
One of the most common Pokémon Go problems is the servers is going down, which means players cannot play the game. This is because the share popularity of Pokémon Go. It has become one of the hottest game around the world, which means a large numbers of people are connecting the server and the Pokémon Go servers can struggle and fail. It also causes the unable to sign out problem and you can check the question 2 to solve it.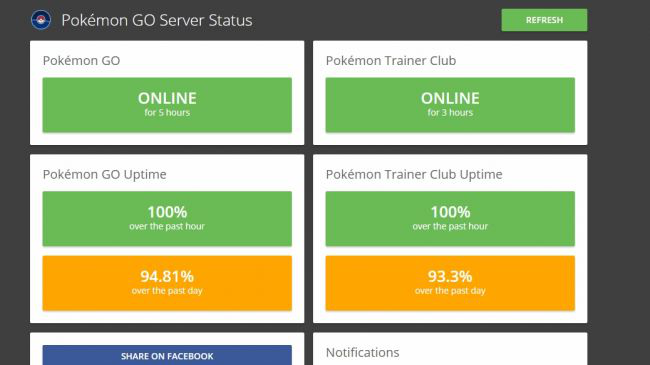 Solutions:
Check the Pokémon Go server status page to know how the servers are performing.
Pay attention to the notifications to tell you when the servers are online.
Try to avoid playing Pokémon Go at the rush time when other players are connecting the servers.
Problem 20. The Game is Really Laggy
Some players complain that the game becomes slow, laggy, and generally unplayable when they are playing. If you are also experiencing this, it may be time to update the app. iOS and Android users can simply go to their respective app stores, search for the game, and tap 'Update' if that option appears alongside the game's logo.
Problem 21. Lure Modules and Incense don't work.
If Lure Modules or Incense don't work and start attracting Pokémon a trick has been found that could fix this Pokémon Go problem.
Solutions:
To fix it, try switching your smartphone's time to the network time. This is the time that your mobile network sets, and it seems to be helping people fix their Lure and Incense problems.
Problem 22. Pokemon Go says No internet connectivity
If you get the "no internet connectivity" message across the top of your phone, that's the fault of your phone or network, not Pokemon Go itself. Check the obvious things - that your phone isn't in flight mode, that data is turned on, and that you haven't run out of data.
Pokemon Go doesn't use a lot of data, but for those with a limited data package, you could easily run out after a lot of playing.
Solutions:
Turn on and off Airplane mode.
Sign out Pokémon Go and reconnect.
Problem 23. Pokemon eggs are not hatching, or vanish
To hatch a Pokemon egg you have to put them into an incubator and walk. When you've covered the distance needed, that egg will hatch, giving you a new Pokemon. However, you have to have the app open for the distance to count.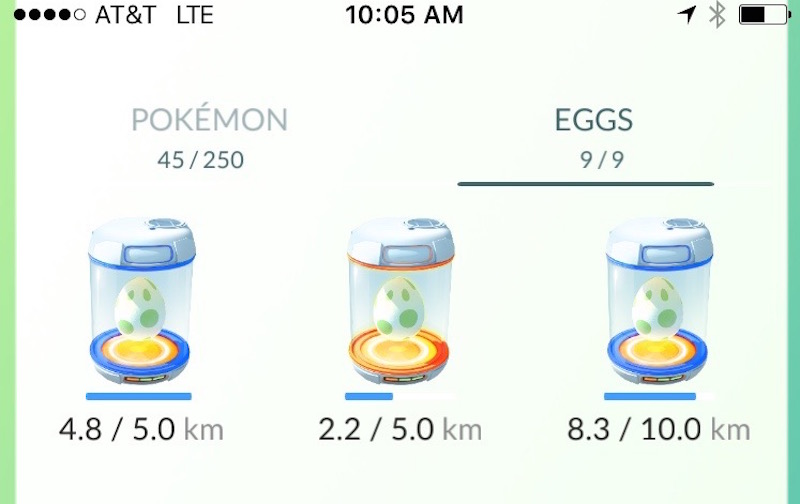 Solution:
If your egg vanishes, it might have hatched, but you didn't get the notification because of server issues or app crashes. Check your Pokemon list, and search by "recent" - you'll see any recent additions there. We hatched Electabuzz without even knowing it had happened.
Problem 24. PokeStops appear empty
If you find that PokeStops are empty, this is a classic slow-loading data error. You'll know it's happened, because you'll walk up to a PokeStop and tap on the swirling icon. When it opens, there will be no name and no picture. If you stop and wait, it will slowly load, but you'll also see that spinning loading icon in the top left-hand corner. Eventually the content will appear and you can try to spin it and collect, but often this again takes a long time waiting.

Yuri A young but experienced iPhone Pro Tip editor at @PrimoSync, also a hiking lover for couple years. Enthused by sharing daily tips on all Apple related topics.
More iPhone Pokémon Go Problems Related Articles:
Popular Articles & Tips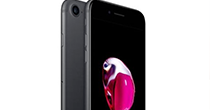 Top 6 iPhone Data Recovery Software in 2017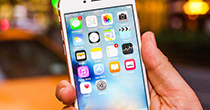 Top 3 iPhone Backup Extractors in 2017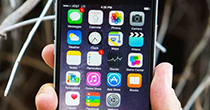 How to Download iCloud Backup to PC/Mac
Join the Discussion on iPhone Pokémon Go Problems