How to Fix Wireless Charging not Working on iPhone X
Suddenly found that the Qi chargers are not working with your iPhone 8 or iPhone X? Read on this quick guide to get some troubleshooting methods to solve it.

Primo iPhone Data Recovery
Primo iPhone Data Recovery can recover deleted or lost iOS data from iPhone X with/without any backup. Just click here to download it and have a free trial.
"I just bought a Qi charger but for whatever reason it will not charge my new iPhone X. No matter where I place the phone on the charging pad, the charger is not detected. How can I fix it ASAP? Any ideas?"
A Question from Apple Forum
Just like this users above, you may also meet some problems like Face ID not working on iPhone X, Airpods not working with iPhone X, and iPhone X won't backup to iTunes on your iPhone X. What if you found that your iPhone X/8 is not charging while connected to the Qi charger? At this time, stop searching for ways on the Internet and try them one by one, cause we'll show you some effective methods here.
Can't Miss: A Quick Tip to Close Apps on iPhone X >>
Table of Contents:
4 Ways to Fix Wireless Charging not Working on iPhone X/8
Way 1. Check and Change your USB cables.
The problem may lie on your USB cables so that the wireless charging stops working on iPhone 8 or iPhone X. Try to use another USB cable and this may fix this problem easily.
Way 2. Restart your iPhone 8/X and Try Again.
Sometimes rebooting can fix some iPhone errors like Qi charger is not working on your iPhone 8 or iPhone X. Just turn off your device and restart it again.
Way 3. Turn off Vibrates Mode on iPhone 8/X.
If your iPhone 8 or iPhone X keeps shifting position when getting notification or alerts, then the wireless charging pad may stop working. Go to Settings > General > Accessibility > Vibration (turn it off).
Way 4. Contact Apple for Support.
If your wireless charging pad still can't work on your iPhone 8 or iPhone X, then you can contact Apple for replacement or repair service.
Bonus Tip to Fix iOS Data Disappeared from iPhone X/8
There are always some users complaining that iOS data missing or disappeared from their new iPhone 8 (Plus) or iPhone X. Though you might have made iTunes/iCloud backup for your iPhone 8/X, restoring with backup would wipe everything on your device. So here you can try Primo iPhone Data Recovery to help you recover lost/deleted iOS data from iPhone X without any data removing.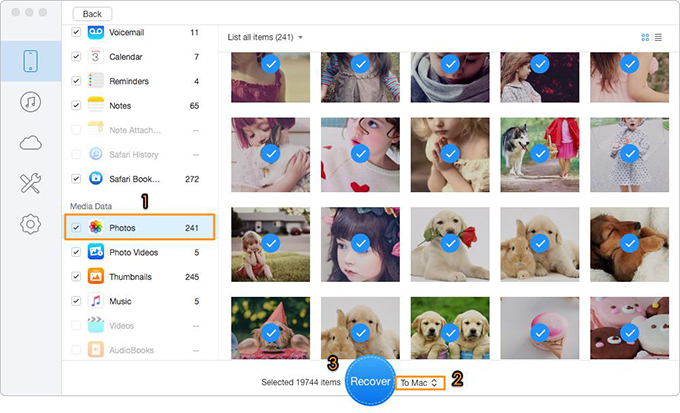 Also Read: How to Switch Apps on iPhone X in 2 Ways >>
Conclusion
As you see, it only takes a few attempts to fix your problem of wireless charging stops working on iPhone 8/X. And Primo iPhone Data Recovery is always a good option to get your lost iOS data back on iPhone 8/X without any trouble. Just download it and start a free trial now >>
Follow
Abby Member of @PrimoSync team, an optimistic Apple user, willing to share solutions about iOS related problems.
More Related Articles You May Like
Join the Discussion on iPhone Data Recovery