How to Clear History on iPhone X/8 (Plus)
How to clear Safari, Google browsing history or search history from your new iPhone X or iPhone 8 (Plus)? This post will show you detailed steps to clear history from iPhone to protect your personal privacy.

Primo iPhone Data Recovery
With Primo iPhone Data Recovery you are allowed to retrieve deleted files from iPhone X/8 even without backup. Download it to have a try now.
The new iPhone X and iPhone 8 (Plus) come to us with the latest iOS 11. On your new iPhone, you can always do online search with Safari or Google Chrome as you like. For keeping your personal privacy, some of you may want to clear out browsing or search history regularly on your iPhone X/8. On iOS 11, it is a little bit different from on iOS 11, and here we will show you detailed instructions on how to clear history on iPhone X/iPhone 8.
Table of Contents:
How to Clear Safari History on iPhone X/8
You can clear Safari browsing history and website data in Safari app or in iPhone's Settings app.
Clear Safari History on iPhone X/8 from Safari App:
Step 1. Open Safari app from your iPhone X/8. From the bottom tap on the bookmark icon.
Step 2. Tap on the clock-like icon where your Safari histories are listed.
Step 3. Tap on the Clear button to remove all histories, or you can swipe to the left and then tap on Delete to clear a single history on iPhone 8/X.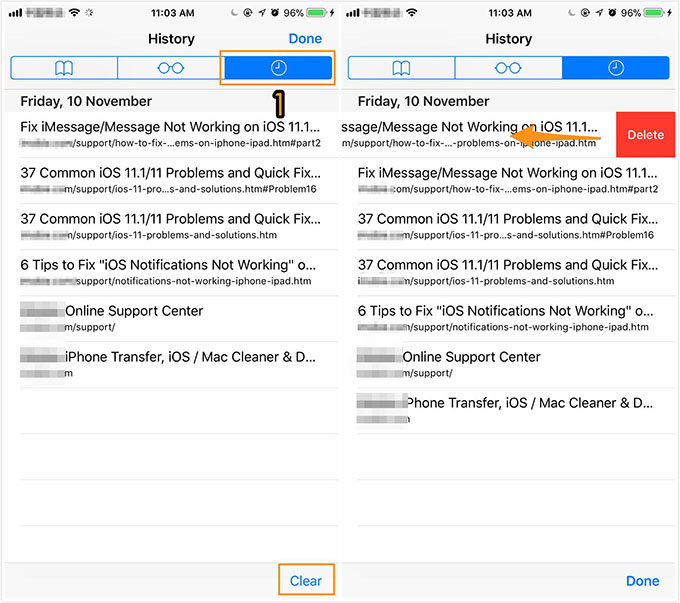 Clear Safari History on iPhone X/8 from Setting App:
Step 1. Go directly to Settings app on iPhone 8/X.
Step 2. Scroll down and find Safari, tap on it.
Step 3. You can scroll down to find "Clear History and Website Data". Tap on it and confirm that you want to clear all history, cookies and other browsing data from Safari on your iPhone X/8 (as shown in below Method 1).
Or you can scroll to the bottom and tap on Advanced > Website Data > You can select the history and data of a website to delete (as shown in Method 2).
How to Clear Google History on iPhone X/8
Step 1. Launch the Google Chrome browser on your iPhone X or iPhone 8.
Step 2. At the top right, tap on menu icon looks like three-dot.
Step 3. Select the History option.
Step 4. Tap on Clear Browsing Data from the bottom of the screen.
Step 5. Chosee the data you want to clear, and tap on the Delete option.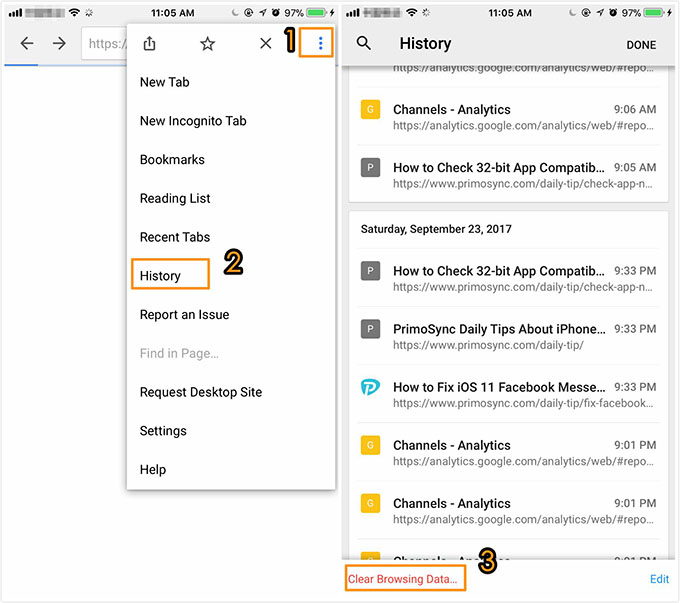 Bonus Tip to Recover Deleted Safari History on iPhone X/8
If you mistakenly deleted some Safari history or bookmarks from iPhone 8/X but there is no backup, how to retrieve them? The first thing you should do is minimizing the usage of your iPhone and getting a professional iPhone data recovery tool like Primo iPhone Data Recovery to recover the deleted Safari history/bookmarks directly. It can not only recover Safari history, bookmarks from iPhone X/8 without backup, but also extract them from iTunes or iCloud backup.
You May Like: How to Recover Lost Safari History/Bookmarks after iOS 11 Update >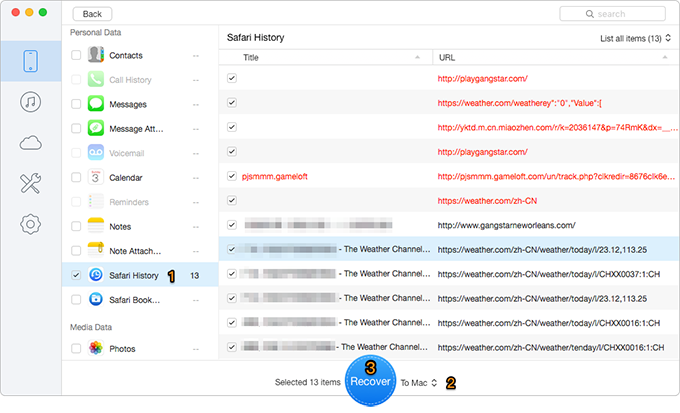 Fiona Wang Member of @PrimoSync team as well as an Apple fan, love to help more users solve various types of Apple related issues by writing iOS-how-to tutorials.
More Related Articles You May Like
Join the Discussion on iOS 11 Update