How to Transfer Photos from Computer to iPhone with/without iTunes Sync
Have saved some holiday pictures on the home computer and search for a way to transfer them to your iPhone? Find 3 detailed solutions in this article.
Quick Start
If you have the iTunes program installed and you are quite familiar with it, iTunes would be your first option to go.
For those who feel tired of the tedious iTunes sync and want a no-data-erase way, PrimoPhoto is strongly recommended to you.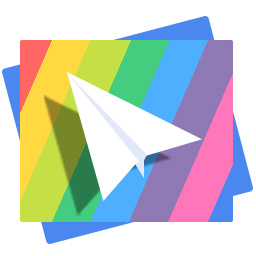 PrimoPhoto

– No. 1 iPhone Photo Transfer Solution

Don't have PrimoPhoto? Download it now prior to reading this guide and it will save you quite a lot of time. Click Here to Free Download.
When it relates to transferring photos from PC/Mac to iPhone, iTunes may be the first option for most of us. It goes without of saying that iTunes indeed has the ability to do this, but one annoyed point is that it will erase or cover the previous data like music, playlists, photos etc. on your iPhone. What's more, it crashes or stops working unexpectedly more than once for software over-downloading.
Because of these shortcomings of iTunes, more and more Apple users are looking for an iTunes alternative to help them transfer photos from computer to iPhone without syncing. That's why we introduce this tutorial to all of you. Read on the following content to get 3 simple methods to transfer Mac/PC's photos to your iPhone without efforts.
Related Reading: How to Transfer Photos from iPhone to PC
Table of Contents:
1. Transfer Pictures from Computer to iPhone with iTunes
Before we start, you need to create a folder and copy the photos you want to transfer to your iPhone into it. It is recommended to put the folder on the desktop.
Step 1. Plug in with your iPhone, and launch iTunes. Click the Device tab, and choose photos on the left side column.
Step 2. Check Sync Photos and select Choose folder… option, find the folder you just created, and click Open to start transferring.
Step 3. Click Apply to start syncing photos from computer to your iPhone.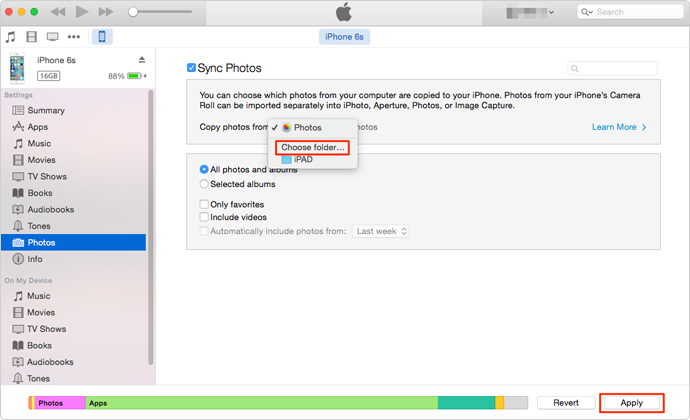 2. Transfer Photos from Computer to iPhone with iCloud
The iCloud service provides you ways to sync photos from computer to iPhone by using iCloud Photo Library and iCloud Drive.
Use iCloud Photo Library:
iCloud Photo Library works for iOS 8.3 and later. Here is how to use it to transfer photos from computer to your iPhone:
Step 1. Connect your iPhone to Wi-Fi network, and turn on iCloud Photo Library: Settings > iCloud > Photos > Turn iCloud Photo Library on.
Step 2. On your computer, navigate to iCloud, and sign in with your Apple ID and password.
Step 3. Click on Photos, and wait for iCloud to load data. Click Upload and select the photos on your computer, click Open. After the photos on your computer have been uploaded to iCloud Photo Library, they should soon also appear in your iPhone's Photos app when you have connected to Wi-Fi.
Use iCloud Drive:
iCloud Drive is launched alongside iOS 8, and it makes it easy to share files across iPhone, iPad, and computer. For iOS 9, there is an iCloud Drive app and iCloud Drive is turned on automatically. For iOS 8, you can set up iCloud Drive: Settings > iCloud > Sign in your Apple ID > Tap iCloud Drive > Tap Upgrade to iCloud Drive.
Step 1. After enabling iCloud Drive on your iPhone, you should log into iCloud.com on your computer.
Step 2. Choose iCloud Drive, upload photos you need from computer.
Step 3. On the iCloud Drive app on your iPhone, you will see the photos as long as you have connected to network.

3. Transfer Photos from Computer to iPhone | PrimoPhoto
DO NOT want to lose the previous photo library and feel confused about the iCloud stuff? Here is a simpler & safer solution. Among similar photo transfer tools, PrimoPhoto stands out for it provides you easy and comprehensive iPhone photo management experience. With it, you can just drag the photos from computer onto your iPhone, and even the specific album you made. No previous photos will be wiped, and no need to connect your iPhone to network.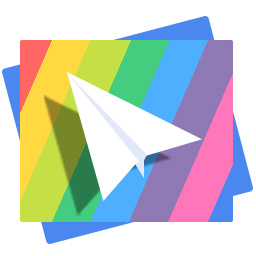 Get Your Best iPhone Photo Transfer
Designed to fit effortlessly into your iPhone photo management
Download Now
Step 1. Install PrimoPhoto on your computer (Windows or Mac), and connect with your iPhone.
Step 2. Click on Import to Device option. Now just drag the photos from your computer to PrimoPhoto.
Step 3. Then choose the album you want to keep the photos, and click Import.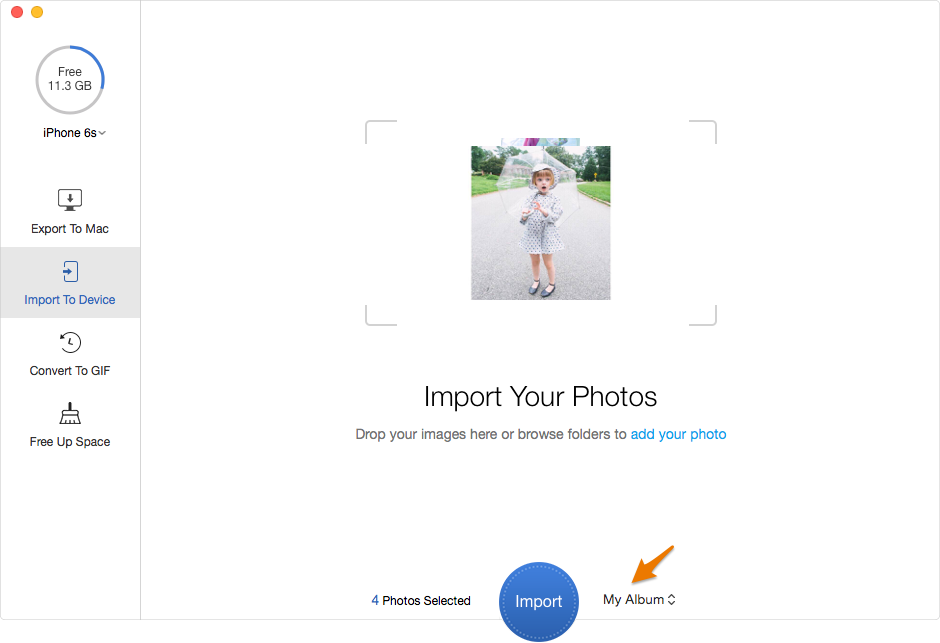 What Makes PrimoPhoto Stand Out on Photo Transfer
Here is a comparison table about the mentioned four ways, and it is clear that PrimoPhoto stand out from the rest. Now take a tour with PrimoPhoto.
| | | | | |
| --- | --- | --- | --- | --- |
| | 1. iTunes | 2. iCloud Photo Library | 3. iCloud Drive | 4. PrimoPhoto |
| iPhone Models | All | iOS 8.3 & Later | iOS 8 & Later | All |
| Data-erase | Previous Photo Library | iTunes Synced Photos | NO | NO |
| Time Needed | 5 Mins | Depends on WLAN | Depends on WLAN | 3 Mins |
Troubleshoot on iPhone Photo Transfer Problems with More Suggestions
1. If iCloud Drive is not available on your iPhone, and you don't want to upgrade to it, you can choose some other cloud storage service like Dropbox, OneDrive, and Google Drive etc.
2. When you turn on iCloud Photo Library, a pop up will tell you that the photos synced from iTunes will be removed, that's because syncing photos via iTunes is not allowed when iCloud Photo Library is on.
3. For Mac users, you can use AirDrop to transfer photos to your iPhone (iPhone 5 & iOS 7 and later).
4. To send a small number of photos, you can mail the photo to myself as an attachment.
Follow
Joy Wang Member of @PrimoSync team as well as an Apple fan, love to help more users solve various types of Apple related issues by writing iOS-how-to tutorials.
More iPhone Photos Related Articles:
Join the Discussion on iPhone Photo Transfer