Should I Buy iPhone 8/8 Plus: Here's What You Need to Know
The coming iPhone 8 is going to be a huge step forward for Apple in so many years. Should I upgrade to iPhone 8? Read on to get some details about the new iPhone 8.

Primo iPhone Data Recovery
Primo iPhone Data Recovery is a professional iOS data recovery tool that enables to recover missing data on Phone 8. Download it to have a try.
The new iPhone 8's preorders will begin on 15 September and the official online sale will be available on 22 September. iPhone 8 will bring us an all-new glass design, both front and back. The glass back supports easy wireless charging. And thanks to iPhone 8, the smartest chip in a smartphone will come to the public. With four efficiency cores, A11 Bionic will be up to 70 percent faster than A10 Fusion. This sounds good. Should I buy iPhone 8? You may have such doubt in mind. Just keep reading.
See Also: How to Recover Deleted Messages from iPhone 8 >>
Table of Contents:
Should I Buy iPhone 8/8 Plus: Something New You'll Get
What will iPhone 8 bring to us? Let's have a check now.
All-Glass Design: iPhone 8 & 8 Plus features with the most durable glass ever in a smartphone. And it is completely water and dust resistant.
Better Cameras: Apple-designed image signal processor offers you advanced pixel processing, wide color capture, faster autofocus, and better HDR photos. Besides, it is specially designed for immersive and incredible AR experiences.
Advanced Touch ID: Touch ID helps you unlock your phone and enables Apple Pay. Moreover, you'll be able to send and receive money in Messages.
Retina LCD Display: Light-sensing technology and expansive color spectrum make everything on iPhone 8 & 8 Plus look and feel more natural.
Wireless Charging: The glass back supports wireless charging, free from charging cables and headphone cords.
Augmented Reality and VR: Apple debuted ARKit at WWDC 2017 has shown how developers can implement AR abilities into iPhone and iPad. Surely the iPhone 8 & 8 Plus will take advantage of that.
A11 Bionic: A11 Bionic manages its enormous power intelligently, offering you good performance and simultaneously ensures high efficiency. Namely, everything happens quickly while using less energy.
Operating System: iOS 11's new features and capabilities make iPhone 8 and iPhone 8 Plus more powerful, personal and intelligent.
iPhone 8 & 8 Plus Specifications: Both 4.7-inch and 5.5-inch iPhone 8 and iPhone 8 Plus offer 64GB and 256GB memory usage. Three color options – Gold, Silver and Space Gray are available.
Now go back to the question: should you get iPhone 8? If you have an iPhone 7 or 7 Plus, you probably don't need to upgrade to iPhone 8 as the iPhone 7 is still a capable one. If you're using iPhone 6s or even older device that is being sluggish, you definitely need the new iPhone 8. If you are an Android user who is planning to have a try on iOS device, the revolutionary iPhone 8 is a nice start. But anyway, the final decision is up to you.
Can't Miss: How to Recover Deleted Photos on iPhone 8 >>
Bonus Tip: How to Recover Lost Files on iPhone 8/8 Plus
If you worry about the risk of losing data while transferring them from old phone to the new iPhone 8, we recommend you a powerful data saver – Primo iPhone Data Recovery. The program enables you to recover various lost data from iPhone.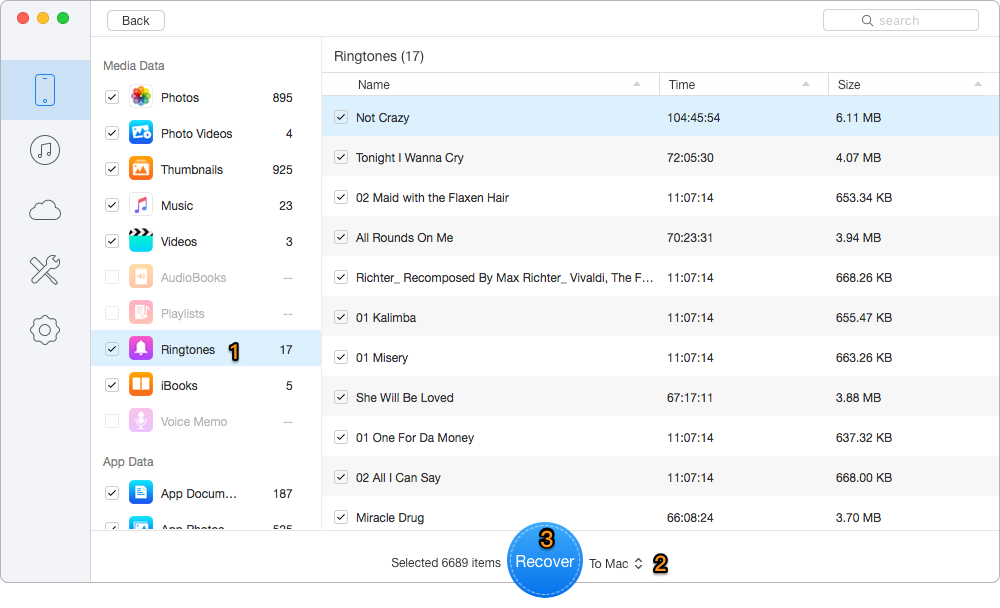 Conclusion
Primo iPhone Data Recovery makes it easy to retrieve deleted or lost iPhone files whether you have backup or not. We promise the 100% safety of current data on your iOS device. Want to know more about Primo iPhone Data Recovery? Download it and have a try now >>
Follow

Lydia Member of @PrimoSync team, an optimistic Apple user, willing to share solutions about iOS related problems.
More Related Articles You May Like
Join the Discussion on iPhone 8 Data Recovery