How to Move Your Music from iPod to iTunes
Do you want to move your music from iPod to iTunes in a convenient way? This tutorial will solve the trouble in minutes.

PrimoMusic

– #1 iPhone Music Transfer Software

Don't have PrimoMusic? Download it now prior to reading this guide and it will save you quite a lot of time. Click Here to Free Download
Your iPod may have beautiful songs from your old computer and then you also want to get them to iTunes on your new computer for entertainment. However, you may encounter the troublesome problem that you don't know how to move music from iPod to iTunes freely.
That's because iTunes is a media manger that only enables you to transfer music from computer to iPod and in the opposite is unavailable. Therefore, you need to look for iTunes alternatives to solve the trouble. Among counts of passible options, it's recommended you to try PrimoMusic.
Table of Content:
The Tools You Need to Move iPod Music to iTunes
All you need is a professional iPod music transfer and PrimoMusic is what you are searching for. PrimoMusic is a handy and powerful music transfer between iOS devices (iPhone/iPod/iPad) and iTunes, and it owns these features such as:
1. It enables you simply select music, playlists, TV shows, books, iTunes U, apps or even all items on your iPhone, and copy them to your new iTunes library.
2. It enables to move music from iPod to iTunes (including the latest iTunes 12.3.3) without any barrier. What's import, PrimoMusic gives you full over transferring your music between iPod and iTunes that you can move music from iPod to iTunes by automatically transfer or manually transfer.
3. It also enables to import music from iTunes to your iPod without any data getting lost on your iPod.

Get Your Best iPhone Music Transfer
Designed to fit effortlessly into your iPhone iPod music management
Download Now
How to Move Music from iPod to iTunes Easily
PrimoMusic is an effective iPod music transfer that helps you flexibly moves music from iPod to iTunes only easy three steps. Download and install PrimoMusic on your computer, and the detailed steps bellow may help you have a good experience with it.
Step 1. Connect your iPhone to computer with a USB data > Open PrimoMusic on computer.
Step 2. Click "Export to Mac" > Select music you want to move.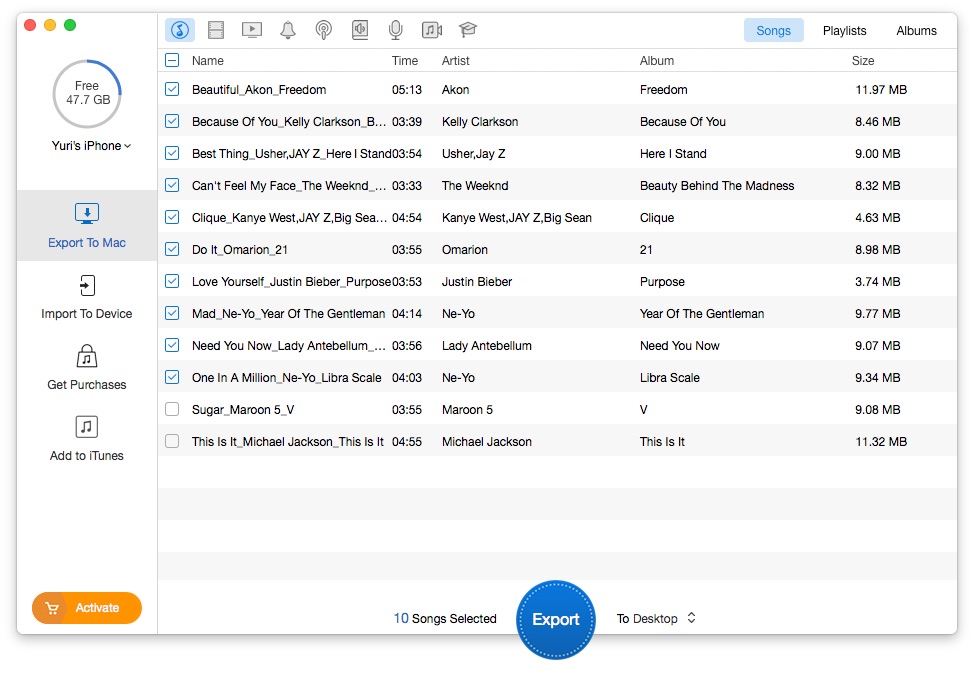 Step 3. Click "Export" button to move your music from iPod to computer successfully.
PrimoMusic gives you the ability to move your music freely from iPod to your iTunes. Download PrimoMusic and you will never worry about your music experience get ruined. Besides, the following music transfer tips offer more solutions to you.

Yuri A young but experienced iPhone Pro Tip editor at @PrimoSync, also a hiking lover for couple years. Enthused by sharing daily tips on all Apple related topics.
More iPhone Music Related Articles:
Join the Discussion on iPhone Music Transfer