How to Copy Your Music from Computer to iPhone – Quick Tutorial
How to copy your music from computer to iPhone without iTunes with time-efficient? This quick guide may help you.

PrimoMusic

– #1 iPhone Music Transfer Software

Don't have PrimoMusic? Download it now prior to reading this guide and it will save you quite a lot of time. Click Here to Free Download
"I have an iTunes account and I downloaded music onto my laptop a couple weeks ago. There was recently a shortage of Internet in my neighborhood and I'm wondering if I can copy the music from my laptop to my iPhone without being signed into my iTunes account and without losing any data on my phone." This is An iPhone user who questioned from Yahoo Answer, and you possibly have met the similar situation before.
There may be a couple of passible solutions, but you may find out that the methods explained with tedious videos or tutorials are not available for use. Aiming to fix the problem with ease, you may try PrimoMusic to get your music from computer to your iPhone without replacing any data on iPhone.
Table of Content:
What You Need to Copy Music from Computer to iPhone
The tools you need to prepare before copying music from your computer to iPhone:
A computer with pop songs.
An iPhone (iPhone 5/5s/6/6s/SE).
An useful USB data.
An all-round music transfer – PrimoMusic.
PrimoMusic is a handy & comprehensive iPhone music transfer that works well on Windows or Mac. To copy music from computer to iPhone without previous data getting lost, PrimoMusic can do this with no efforts. It supports you to select songs on computer and helps you integrates them into playlists on your iPhone with on barrier.

Get Your Best iPhone Music Transfer
Designed to fit effortlessly into your iPhone photo management
Download Now
How to Copy Music from Computer to iPhone
We have discussed how to import music from iPhone to iTunes on computer, and here we also introduce the convenient way to copy music from your computer to iPhone. The detailed steps are showing bellow:
Step 1. Download and install PrimoMusic on your computer > Connect your iPhone to computer with USB data.
Step 2. Click "Import to Device" > Select songs you want to copy.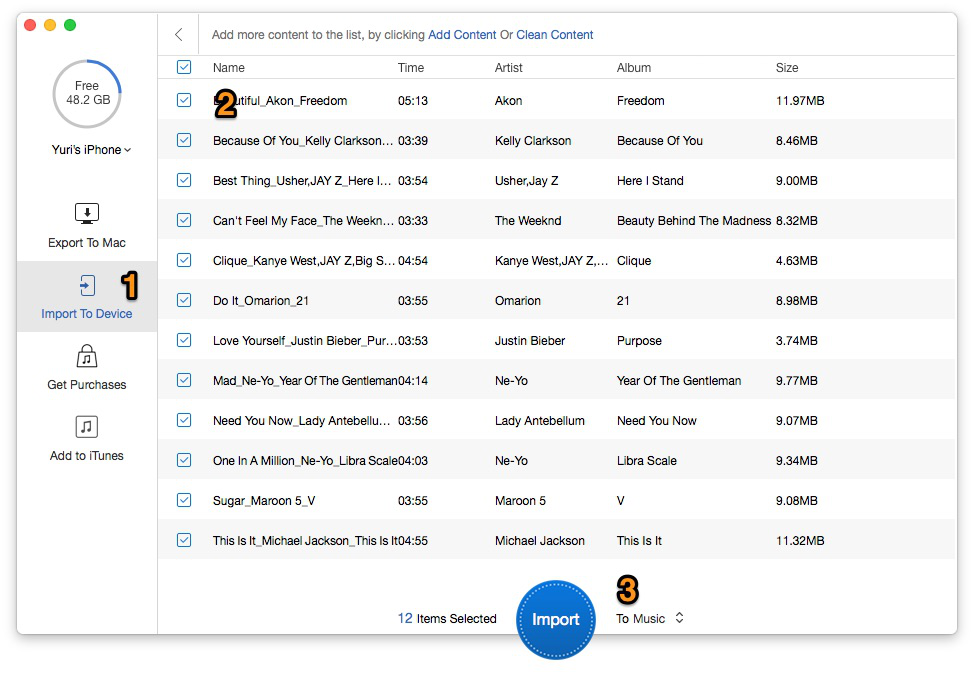 Step 3. Click "Import" button to copy songs on computer to your iPhone smoothly.
Bottom of Line
PrimoMusic is a professional iPhone music transfer that allows copying all songs on from computer to iPhone without replacing previous data on your iPhone. It can also manage your music collections on computer by rebuilding playlists, music ratings and playing counts. Besides, if you have any questions about music transfer on your iOS devices (iPhone, iPad and iPod), the related tips bellow may be your ideal options.

Yuri A young but experienced iPhone Pro Tip editor at @PrimoSync, also a hiking lover for couple years. Enthused by sharing daily tips on all Apple related topics.
More iPhone Music Related Articles:
Join the Discussion on iPhone Music Transfer