How to Transfer Your Music from iPod to iTunes
How to transfer your music from iPod to iTunes without efforts? This quick guide will introduce a simple solution to you.

PrimoMusic

– #1 iPhone Music Transfer Software

Don't have PrimoMusic? Download it now prior to reading this guide and it will save you quite a lot of time. Click Here to Free Download
Maybe iPod is not so popular today, while there are still many people would like to use it for music playing. As an iPod user, you may certainly know how to transfer music from iTunes to iPod since iTunes is the default app for music transfer. However, it is a one-way transfer that means you cannot transfer music from iPod to iTunes.
If you want to put all songs from iPod to iTunes when your computer crashed or damaged, what should you do next? You can search the solutions on the Internet, but here PrimoMusic will provide a quick & simple method to this problem.
Table of Content:
The Tools You Need to Transfer iPod Music to iTunes
The tools you need to prepare:
1.a computer with authorized iTunes.
2.an iPod with numbers of songs.
3.the quick tool of iPod music transfer – PrimoMusic.
As an all-round & comprehensive media music manager, PrimoMusic is specially designed for iOS devices (iPhone, iPad and iPod) music transfer. It allows you to transfer music from iPod to iTunes only three simple steps. With it, you can put all songs from iPod to your iTunes freely and vice versa. Besides, PrimoMusic also enables to manage your music collection on iTunes by rebuilding playlists, music ratings and playing counts.

Get Your Best iPhone Music Transfer
Designed to fit effortlessly into your iPhone photo management
Download Now
How do You to Transfer Music from iPod to iTunes
Download and install PrimoMusic quickly, and the following detailed introduction of PrimoMusic will help you transfer music from iPod to iTunes in minutes.
Step 1. Connect your iPhone to computer with a USB data > Open PrimoMusic on computer.
Step 2. Click "Export to Mac" > Select music you want to transfer.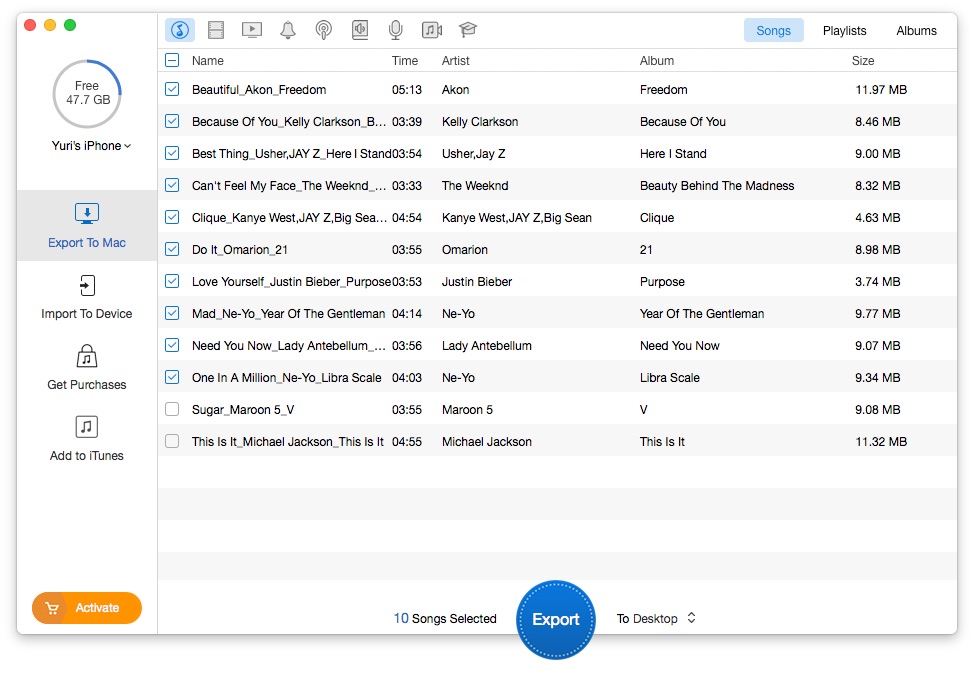 Step 3. Click "Export" button to transfer your music from iPod to computer successfully.
From the above, music transfer from iPod to iTunes becomes an easy thing for you. On top of this, PrimoMusic lets you select specific songs from your Albums, Playlists and Artists of your iPod and you can create new personal music classification by yourself on computer. What's more, the related tutorials about music transfer may help you solve troublesome problems.

Yuri A young but experienced iPhone Pro Tip editor at @PrimoSync, also a hiking lover for couple years. Enthused by sharing daily tips on all Apple related topics.
More iPhone Music Related Articles:
Join the Discussion on iPhone Music Transfer