How to Fix iTunes Error 21 While Updating to iOS 11
Get confused when you met the iTunes error 21 when you update your iPhone, iPad or iPod touch 6 to iOS 11? Now we'll show you how did this happen and how to cope with it easily.

Primo iPhone Data Recovery
Primo iPhone Data Recovery can help you recover lost iOS data during iOS 11 update with steps. Just click here to download it and start a trial.
"What is iTunes or iPhone error 21 and how to fix it quickly? I got this when I tried to connect my iPhone 7 to iTunes and update to iOS 11, which says " The iPhone could not be restore. An unknown error occurred (21).'' And advice would be appreciated."
You may encounter the same situation like this user if you are reading this page, and iTunes error 21 has become a nightmare for many users when they want to restore iPhone or update iOS version. The reasons of iTunes error 21 can be various like a disconnection between iPhone and update server, malware or virus infection, hardware error, system crashes and etc. Now follow this tutorial and we'll show you several useful methods to fix this issue.

Can't Miss: How to Fix Bluetooth Not Working After iOS 11 Update >>
Table of Contents:
6 Tips to Fix iTunes Error 21 While Updating to iOS 11
1. Quit and Restart iTunes on Computer.
Sometimes it can be just a simple computer fault when this iTunes error 21 occurs. Just disconnect your iPhone from computer > quit iTunes > reopen iTunes > connect your iPhone with iTunes and try again.
2. Update iTunes to the Latest Version.
You may have used your iTunes for a long time ago and it's really way outdated now. Just launch iTunes on computer (for example Mac) > click iTunes from the left upper corner > then you can download the latest iTunes version. After that, try to connect to your iPhone and download the iOS 11 via iTunes again.
3. Remove or Disable the Security Software.
There are chances that your security software such as some antivirus apps may block your iPhone from connecting to iTunes update server, so you'd better disable or deleted them temporarily and try again.
4. Remove Other USB Devices on Computer.
Unplugging other USB devices on computer except the iPhone that you want to update may be workable to fix iTunes error 21 because there may be some programs in other devices that are incompatible with iTunes update server.
5. Check the Internet Connection.
An important factor to successfully update to the iOS 11 is the stable Internet connection, so you need to check whether your Internet connection is working well
6. Reset iPhone Network Settings.
The problem can also lie on iPhone network settings. But this will remove all your custom settings including the password. Go to Settings > General > Reset > Reset Network Settings.
Bonus Tip: How to Restore Lost/Deleted iOS Data on iOS 11
Whenever you want to download the latest iOS version, there would be complaints about losing data during iOS update. So what if you lost some vital iOS data like contacts, messages, photos when you updating to iOS 11? Here we would recommend Primo iPhone Data Recovery to recover lost iOS data during iOS 11 update without too much trouble. Move to this guide to know about how to recover lost iOS data after iOS 11 update.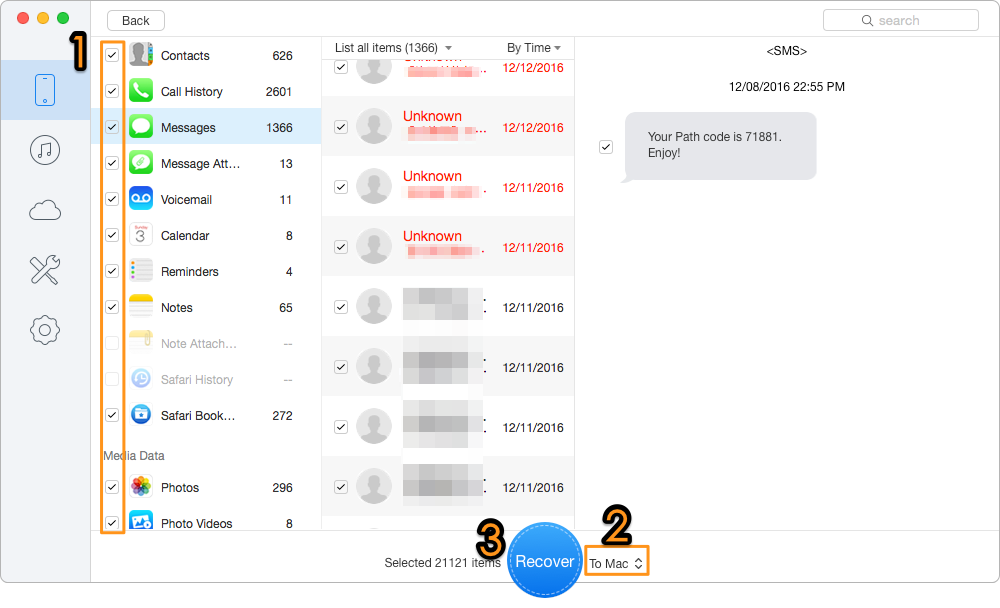 Also Read: How to Recover Deleted Files on Android for Free >>
Conclusion
You may have solved your problem of iTunes error 21 with the tips we offered above, and you can also recover lost iOS data with Primo iPhone Data Recovery. What's more, Primo iPhone Data Recovery can also export your iOS data from iPhone/iPad/iPod touch to computer selectively. Just download it and start a free trial now >>
Follow
Abby Member of @PrimoSync team, an optimistic Apple user, willing to share solutions about iOS related problems.
More Related Articles You May Like
Join the Discussion on iPhone Data Recovery